Equipment
ALD is at the core of the ORF-RE project, so ALD reactors are essential infrastructure. Two ALD reactors were constructed in 2019-2020, and after some delays due to COVID, the new reactors became available for use in early 2021 [these reactors are capable of ALD as well as related techniques such as Molecular Layer Deposition (MLD) and Atomic Layer Etch (ALE)].
The two new ALD reactors were designed to enable deposition of the broadest range of materials, with rapid switching between different deposition chemistries. For each reactor, features to enable these capabilities are:
all conflat flanges and VCR fittings for UHV compatibility
no internal components made of nickel or silver, and gold plated conflat gaskets.
a 2" substrate heater (max 600 °C) in which all electrical and thermocouple connections are isolated from the reactor environment.
a vented enclosure to house both reactors
8 separate precursor inlets into each reactor (2 room temp, 3 heated, and 3 gas lines)
8 permanently attached reactive gases, each with its own ALD valve and MFC
3 heated sources, and attachment points for up to 8 room temperature bubblers
dry semiconductor vacuum pumps with nitrogen gas purge
a dry scrubber abatement system to remove precursor gases from the exhaust before release to the fume hood ductwork.

The new ALD reactors:

Infrastructure associated with the new ALD reactors: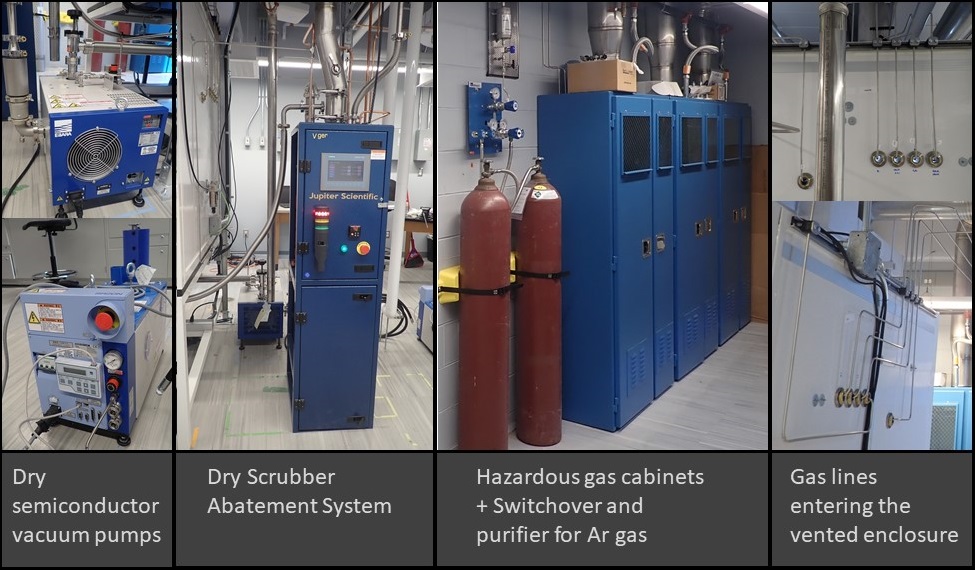 The Emslie group's older ALD reactor (built in 2015-2016):


Other existing infrastructure is also essential for the research. For precursor molecule and reactivity development, this includes vacuum lines and inert-atmosphere gloveboxes:


Characterization is also essential to determine the identity, purity, properties, and performance of new precursor molecules and ALD-fabricated materials and devices. Critical infrastructure includes molecular characterization equipment in the Department of Chemistry (e.g. NMR, EPR and IR spectroscopy, single crystal X-ray diffraction, and PXRD), and thin film/device characterization infrastructure (e.g. VASE, SEM, AFM, and thin-film XRD) in the Centre for Emerging Device Technology (CEDT), the Canadian Centre for Electron Microscopy (CCEM) and X-Ray Diffraction Facility at McMaster (several of these facilities are part of the Brockhouse Institute for Materials Research (BIMR)):